Tungsten Rubber Core Fishing Sinkers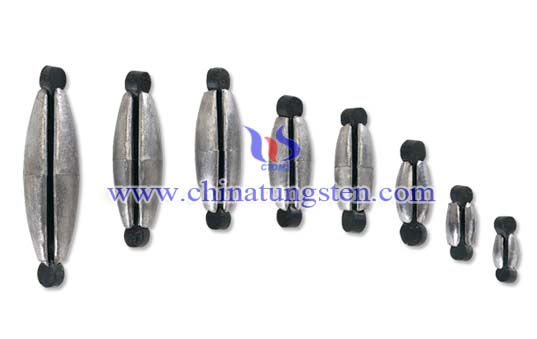 Tungsten rubber core fishing sinkers have a groove like a split shot and two tabs also called ears on each end of the sinker. Rubber core tungsten fishing sinkers resemble the oval and American football shape .The line is placed in the centre groove, and the tabs are for fixing the line in place by twisting the line in opposite directions, finally wrapping the line around the rubber core. If you want to release the line, just twist the two tabs in reverse. Rubber core fishing sinkers can quickly be added or removed and do not brake the line.
Rubber core fishing sinkers have many applications. The common applications is using a small 1/8 ounce version for live bait offerings, or adding a large sinker when trolling long-lines to help baits run at greater depths.
Lead is widely used as the materials for this type of tungsten fishing sinkers. However, there are more and more alternatives come out because of its toxic property. The environmental friendly materials tungsten alloys are more widely used. As the high density of tungsten alloy, tungsten alloy rubber core fishing sinkers are about 30 percent smaller than lead ones. So that it is delighting to achieve desired weight with a small volume.